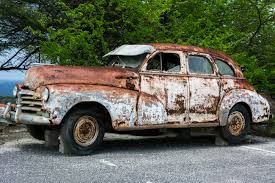 (Recommended to get a car like this)
FIRST , GET A CAR.
Don't get a driving license. Just get a car , doesn't matter how or where you get it.
Bring an axe in case the someone you're "borrowing" the car from doesn't agree to "lend" it to you.
Drive away from the someone before the cops come. Or detonate a bomb. If you have a bomb. Or even better, a nuke.
THEN INSERT THE KEYS.
Put the keys in the keyhole.
Change the gear to R. (Don't ask what it does just do it!)
FINALLY, PRESS THE GAS.
RUNAWAYYYYYYYY!!!!!
(Wait, why is the car going backwards?)
WARNING!
Don't do this anywhere!
Results might include:

Death Sentence.
Imprisonment for 10 years.
Restraining order from everyone.
Meeting Justin Bieber every now and then while imprisoned. (NOOOOOOOO!!!)
But break out of prison cause your LSJ Broly